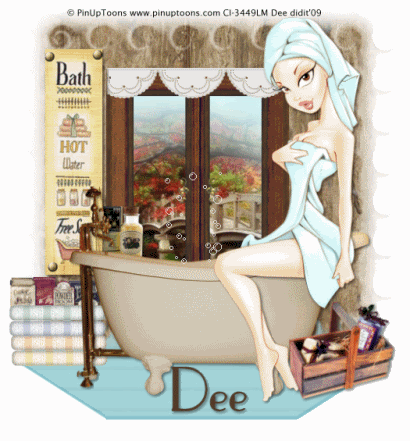 Supplies Needed
Tube of choice. I am using the beautiful artwork of PinUpToons. To use his artwork you must purchase a license at
CILM
. Free Scrap kit Bathroom Freebie Kit can be found
HERE
Mask07 by Vix
HERE
. Window included in supplies, but the credit goes to
EssexGirl
. Towels
HERE
My Supplies
HERE
Let's Get started!
Open a new transparent image and floodfill with white.
Resize 17% the wooden paper layer and copy and paste as a new layer. Apply Vix_Mask07 to this paper layer and merge group.
Copy and paste the deefloor tube as a new layer and move it under your mask and arrange as if it is the flooring of your bath.
Resize the sg_dark wood frame included in my supplies and copy and paste as a new layer.
Move to the middle of your mask layer.
Click inside the frame with your magic wand on each side, holding down your shit key.
Selection-Modify-Expand by 5. Add a new raster layer and flood fill the selection with #c2e8ee. Move this layer under your window frames.
Copy and paste the chrismist_japanese_garden misted tube or one of choice over your selected window frames.
Selections-Invert-hit delete on your keyboard. Move this under your window frame as well but above your "sky" layer.
Reduce the opacity to 95% on the misted tube.
Resize the bathtub 20% and copy and paste as a new layer.
Copy and paste your main tube as a new layer.
If using a similar one sit her on the edge of the tub.
Resize lace6 20% and copy and paste as a new layer and place it on the top of your window frame as a valance.
Erase the overhang on each side. Resize, copy and paste bath sign, and elements of choice.
I used the basket, some towels, bath salts etc.
Crop and resize your tag as desired. Add your copyright info, watermark and name.
Animation:
Copy your tag merged into animation shop and paste as a new animation.
Open the bubbles gif. Duplicate your tag so it has 8 frames.
Activate your bubbles, edit-select all-copy.
Activate your tag Edit-select all-paste into selected frame.
Place your bubbles where you like them.
Run your animation and if happy save as a gif!
I hope you enjoyed this tutorial!
Hugs,
Dee