Supplies Needed
Tube of choice. I am using the gorgeous artwork of Barbara Jensen. To use her work you must purchase a license
HERE
at Erotic Artist Gallery. This is a free tube offered by Barbara Jensen on her site. Thanks Barbara. Free Scrap Kit Precious Love can be found at CinnamonScraps
HERE
. Deemask1 by me can be found in my supplies
HERE
. Font of choice.
Plugins Used.
Xenofex2 - Constellation
Xero- Porcelain
Let's get started.
Open a new image 600X600 and floodfill with white.
Add a new raster layer and floodfill with a color from your tube or kit.
Apply Deemask1 Layers/load/savemask/load mask from disc.
Layers - Merge Group.
Copy and paste frame 3 from the kit. Duplicate it twice. Rotate one 12 left, the other 12 right.
Make sure they are behind your straight frame.
Click inside your straight frame with your magic wand. Selections/modify/expand by 7.
Copy and paste a paper from the kit-selections-invert-hit delete on your keyboard. Put the paper behind your straight frame.
Do the same with your rotated frames,using another paper of choice from your kit.
Copy and paste your tube as a new layer. Make it so her head is above your center frame and erase any over hang on the bottom.
I added the xero porcelain plug in to my tube using the following settings:
Copy and paste the beaded heart as a new layer above your mask layer. Use your raster deform tool to stretch it vertically so it comes a bit below your frame.
Resize 75% and copy and paste your floral branches on each side of your center frame. Add some leave accents which I resized to 30%.
Resize bow 1 30% and place over your floral branch.
Copy and paste flower 3 and place in the top left corner above your mask layer so it shows a bit. Do the same for the lower right corner.
Copy and paste gem 2 and place it over the large flower in the left corner. Duplicate and mirror.
Resize flowers of choice to 40% and place on the lower corners or your frame.
Resize heart charm 1 70% and copy and paste as a new layer. Place it in the upper right hand corner of your frame.
Add your copyright info, if using the same tube as I am..even though it is free, you must obtain a Barbara Jensen license to use it.
Add your watermark and name. I put eyecandy 4000 gradient glow around my name.
Animation
Duplicate your heart charm layer 2 times for a total of 3.
Take your freehand selection tool (the lasso) and draw
carefully around the pink gems in the heart charm.
X out your top 2 heart charm layers. Highlight the first and apply Xenofex 2 constellation with the following settings: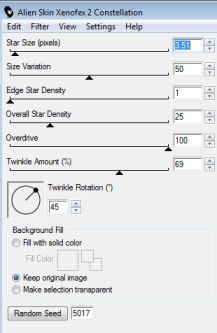 X out of your first charm layer and open the second and repeat constellation but change the random seed.
X out of your second layer and open the 3rd and repeat, changing random seed.
X out of your 3rd, and open the first once again. Selections-select none and copy your tag merged to animation shop.
Do the same with the second and third charm layers and paste after current frame in animation shop.
Run your animation and save as a gif!
I hope you enjoyed this tutorial.
Dee